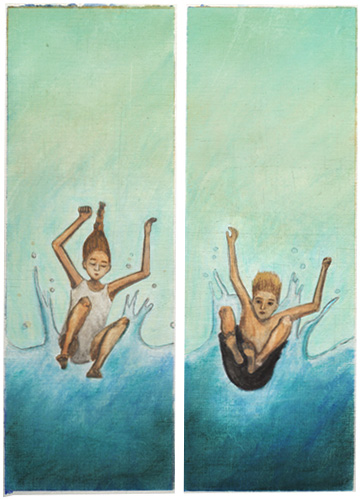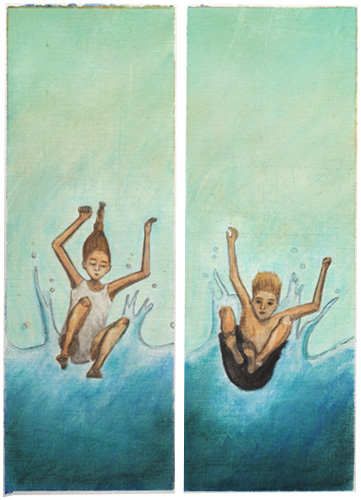 Nearly a year ago I started a big creative project that I had no business starting.
"No business" meant:
Fame and fortune were definitely NOT on the horizon.
In fact, said big creative project would take time away from my more practical pursuits (like my billable work and growing my business and expanding my profitable skillset… and folding laundry).
I wasn't particularly skilled in said creative outlet— it wasn't related to graphic design or building websites or folding laundry (although my husband will tell you I'm not very skilled in that last task anyway).
Chances were likely I would quit said big creative project (having quit similar projects before).
And there were many, many other reasons I told myself why I wasn't ready, wasn't good enough and shouldn't start said creative project at all.
But I was also in a mid-life muddle, and I wanted to challenge myself with something. And this THING— this creative project— it felt enormous. Barely doable. And yet it was something I really wanted to try.
And so I began. An hour a day (most days). Sometimes two hours (rarely more). Day after day.
And now it's nearly April and, blip, almost a year has passed. My project is far from complete, but it's growing. It's taking on a quirky life for itself.
These days I look at it and it looks back at me with it's odd little face, and I'm more bewildered that it exists than ashamed by the shape it takes.
So now is where I tell you what I'm working on, although I'm really, REALLY uncomfortable in doing so. The truth is, talking about it makes me feel like an imposter, like a failure, like a fraud.
But here goes:
I'm writing a novel.
Whew! Glad that's over.
I'm reminded of another time I made a big creative leap, nearly 10 years ago. I was picking up the pieces of an old life after an illness and a career change. I was starting a graphic design and programming business that, funnily enough, I had no business starting. And I felt like an imposter, like a failure, like a fraud.
The thing is, when you're starting out on one of these big scary creative adventures, you're never going to be ready and you can't ever know where you'll end up. And yet you still may be driven to jump in anyway. (Note: A painful muddle seems to help force this action.)
So, I'm reporting in from my free fall today. And all I can tell you is that it seems to be worth the effort, doing this creative work each day (well, almost each day).
I'm taking it one step at a time, trying not to overthink the outcome, trying to trust the journey, and seeing what happens along the way.
My mid-life muddles are still here, but they are evolving, becoming deeper, becoming something I can better understand. Strangely enough, I think I'm beginning to be able to say the same thing about myself too.
That's the funny thing about human endeavor, isn't it? It has the power to mold us despite our best efforts at trying to stay in control. We may want one thing, but we end up with something completely different. We may think it's about something else, when really it's been about ourselves all along.
So, if you're standing on the edge of your own creative jump, or if you're somewhere in the middle of your own creative dive, I wish you good luck in your adventure.
I hope you find yourself along the way.
Happy landing,